April 30 Update - Theos Series
April 30 Update - Theos Series

Theos Series
A few weeks ago I was contacted by Gary Hullquist via God-head.com. During our dialog he alerted me to a series of studies that he had worked on and put together into 5 magazines. I was so blessed by reading Gary's research that I asked him if we could make them available on God-head.com.
Gary has graciously allowed us to do this. I highly recommend this series to you. He has included many EGW and pioneers references that I had not seen before. His study and writing style is refreshingly straight forward and compelling.
Click on the icons below to download the series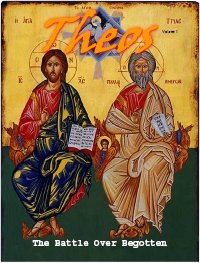 You can also download them from HERE.
Gary has also written several articles for God-head.com and if you get a change you might want to check them out.
Recent Feedback
I just received this email this morning that I wanted to share with you.
[After reading much of the Return of Elijah Manuscript] I finally fell asleep around 6:30am (11:30a.m. now) as it was difficult to quiet my mind down... I had scripture after scripture going through my head that suddenly made so much sense... With just applying the principles I can see without too much study that the Holy Spirit also cannot be an identity but an entity.
If I had all this well understood when studying with the Jehovah Witnesses I would of been a better witness to them. Ever since I had studied with the Jehovah Witnesses while I was reading the Bible I would come across texts that drove my conscience wild. I remember telling the JW's that sharing the Trinity doctrine with the Catholic Church makes me very leery (yet in mind the SDA church was infallible). I prayed for the Lord to set these things straight at all costs so logging onto your site yesterday was an answered prayer as it all makes sense now.
Before emailing you and asking for the manuscript I read all the correspondence between you and the BRC... I was absolutely moved and convicted by how peaceful the exchange went. When I didn't detect a bitter spirit I knew I had to read this information. I believe there must be thousands of Adventists that believe the same as this and have no idea that they do.
There is no doubt the Lord has a plan up His sleeve with how He put all this together. Thank God the Lord has shown me over the last year of numerous times how I had been wrong. That process has made me very open minded yet I'm firm when the truth is clear.
Wow relational based thinking verse performance based thinking... What a principle that's beyond obvious yet very carefully twisted by Satan. My prayers go out that you stay strong in the Lord and keep away from all bitterness as this is what got my attention... If there had been any bitterness its possible I would not of followed up like I did. Jesus really is the Son of God, what a concept.
God Bless!!!
Blogging your Experience
I invite you to join in a share your experience with others by writing a blog. If you go to your profile area you can select the Myblog tab, go to the Blog dashboard and start adding your thoughts. It is a blessing to see people's responses to the truth about the Father and His Son and how it is changing our hearts and families. Your contribution would bless others
Recent Articles
1. The Comfort of Elijah - The Voice in the Wilderness
2. The Comfort of Elijah - The Way, the Mountains and the Valleys
3. The Realities and Blessing the Abrahamic Covenant
4. Touched with our Feelings
My Prayer
Dear Father
Please bless the families of those who receive this news letter. May the your joy flow into their hearts through the Spirit of your Son. Protect their children from the snares of Satan and deliver them from the evil one.
Please bless our church Father. We have all failed you and broken the covenant. Turn your face toward us and open the hearts of our leaders that they might see the beauty and wonder of your Son and the freedom He brings.
Thank you for hearing this prayer in the name of our precious Advocate and mediator - the Lord Jesus Christ