31) Christian Events in the Feasts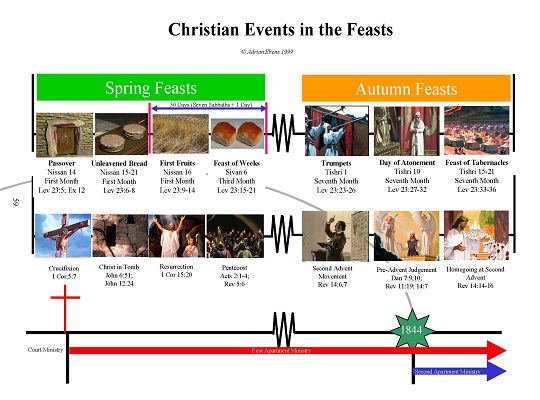 AIM: To show that the various feasts given to the Jews reveal that the gospel involves a chronological process. That just as the Passover pointed to the death of Jesus on the cross, so also the Day of Atonement pointed to the great day of judgment.
Outline: Go step by step through the feasts of the Jews an notice their fulfilments to time as well as to event and remember that salvation is a process. The seven (seven = completeness) feasts reveal the complete process of salvation, to save the human race. The feasts are divided into the Spring and Autumn of each year. The system of services given to the Jews is rich with symbolic meaning concerning the plan of salvation. From a quick observation of this chart you can see that the cross of Jesus marked the beginning of the full manifestation of plan of salvation, not the finish or end of it. This lays the basis to establish the commencement of the judgment in 1844. If all finished at the cross, then a judgment is useless, but this chart makes it clear that the judgment is just as much a part of the plan of salvation as the cross. In Revelation 14:6, the first angel proclaims the everlasting gospel. What he preaches is the hour of His judgment is come! Judgment is gospel just the same as the cross is gospel. It is all good news.