34) 3 Phases of Judgement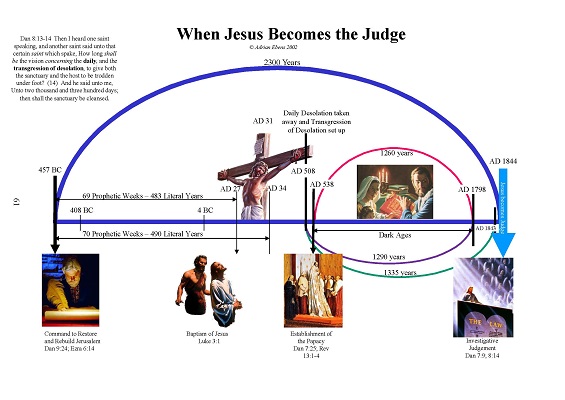 AIM: To show the logical sequence and progression of God's judgment.
Outline: Take your student step by step through the three phases of the judgment. As with any court process there is: 1) Investigation followed by 2) Verdict or declaration and then 3) Sentence or execution. The purple line – Investigation, Declaration, Execution, follows this process. Since only those who make a profession of Christ enter the Investigative Judgment (John 3:18) and since God invites the righteous who enter heaven to investigate the fairness of His sentencing of the wicked, there is a secondary line that is followed through the judgment process. This is shown by the yellow boxes. The "Krisis" is the judgment of those who profess Christ. The "Krima" is the investigation of the sentencing of the wicked by the saints and the "Krino" is God's execution of the wicked at the end of the 1000-year period. The sequence denoted by the purple boxes is the overall process of judgment. The sequence denoted by the yellow boxes reveals the care that God has taken in dealing with the sin problem. To allow others to investigate the fairness of the Judge's sentencing is amazing, but it reveals the openness and kindness of our God. Impress upon your student the fairness and mercy of God in this process. God is not willing that any should perish (1 Peter 3:9). God is more than gracious in this process.
You will need to reassure your student that those who have confessed Christ as their Saviour and claim Him as their righteousness (1 Cor 1:30) and believe that He will give them victory in their lives (Rev 3:21) have nothing to fear in judgment. We can be confident. We can rejoice! Isa 33:22 says "For the LORD is our judge, the LORD is our lawgiver, the LORD is our king; he will save us."