Christ and His Righteousness - E.J. Waggoner (1890)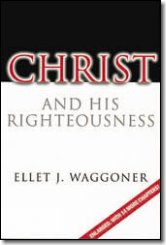 Download
Distilling the heart of the 1888 message and the righteousness of Christ.
"And this is his name whereby he shall be called,
THE LORD OUR RIGHTEOUSNESS."
From Amazon Description:
A precious treasure waiting to be discovered by the present generation, this book is a break-through. It penetrates centuries of spiritual fog to rediscover the inherent power of pure New Testament justification by faith.
With rare insight and clarity, yet with love, the author puts his finger on the true reason for our many spiritual defeats – unbelief. Best of all, he demonstrates how to overcome that all-too-common sinful paralysis by believing how good the Good News is. Here is spiritual sunshine.
Reviewed in the United States on November 8, 2013:
All my life I have struggled trying to understand what happened in 1888 and what Righteousness by faith really was. This book clears it and makes it understood for me, the first time in my life. I read it three times and continue to pick it up and read in it again. If ever you want a book that explains what Christ has done for those the believe in Him, this is the book. Waggoner was dearly loved by Ellen White and she recommended his understanding of this subject. Please do not miss it. I am 78 and searched years for this understanding. I highly recomned it to any that are searching.