My Beloved - Free book offer

Why am I receiving this email?
You registered as a member at www.maranathamedia.com. If you no longer wish to receive these then you can {unsubscribe}Unsubscribe{/unsubscribe}
Feature Article
Dear maranathamedia subscriber
It is with great joy that we share with you this little book called My Beloved. In it, I detail some of my journey in finding the begotten Son of God and why I love Him more than any other. In this volume I am responding to the question put to the woman seeking her lover in Song of Solomon
Song 5:8-9 I charge you, O daughters of Jerusalem, if ye find my beloved, that ye tell him, that I am sick of love. (9) What is thy beloved more than another beloved, O thou fairest among women? what is thy beloved more than another beloved, that thou dost so charge us?
It is this question that I seek to answer before my brethren in the church that have chosen another beloved. It is my desire that every member of the Seventh-day Adventist Church would have opportunity to see the reasons why I have found the begotten Son to be sweeter and infinitely more lovely than the one called the second person of the Trinity.
Knowing that Jesus is the Son of God is only the beginning of the journey, knowing why this makes Him so sweet is the burden of my heart that as the followers of the begotten Son we might reflect this sweetness in our efforts to reach our brethren. Does the spirit of the begotten Son subdue our hearts, fill us with joy and grant us patience to deal with those who oppose us? Does the joy of His love keep our tongues from foolishness and rash accusations against those who are marching towards certain destruction? Does His love cause us to weep and sigh for the terrible things done in our beloved Church?
If ever we needed the sweetness, meekness and humility of the begotten Son, now is most certainly that time. May this little volume bring sweetness and joy to all who read its pages is my hope and prayer in the name of our Beloved Saviour Jesus Christ
Follow these links to view two short clips that introduce the book.
1. My Beloved
2. My Beloved - The Midnight Cry
Please email me you would like to secure of copy of the book for FREE! We will decide whether we can send the hardcopy or a PDF depending on postage costs.
Adrian Ebens
Maranatha Media
Disfellowship Proceedings
On June 4th 2012, the Seventh-day Adventist Church disfellowshipped Adrian Ebens for His belief in the only Begotten Son of God. You can read his report HERE
Return of Elijah PDF - Free to Download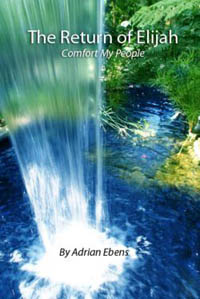 The Return of Elijah traces the impact of the serpents lie "you shall not surely die through to the wave of doctrinal error that is engulfing the church and unwittingly has caused the church to deny the Father and the Son.
One of the key elements of this work is to show how the doctrine of the Trinity makes understanding righteousness by Faith impossible to fully grasp and subtly pushs its aherents towards a performance-based religion.
320 pages with several appendices in the back
This is the volume that I submitted to the leadership of the Adventist Church in 2007.
You can download the PDF from HERE
Promise and Patience from Maranatha Media on Vimeo.
Recent Articles and Resources
Said the angel, "Think ye that the Father yielded up His dearly beloved Son without a struggle? No, no." It was even a struggle with the God of heaven, whether to let guilty man perish, or to give His darling Son to die for them.? EW 127 (1882)